Here are some pics for your guys. Cried goes to www.slashfilm.com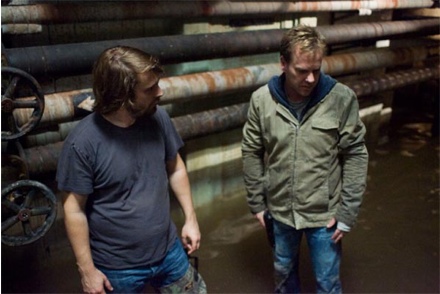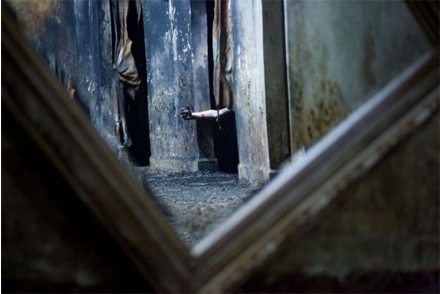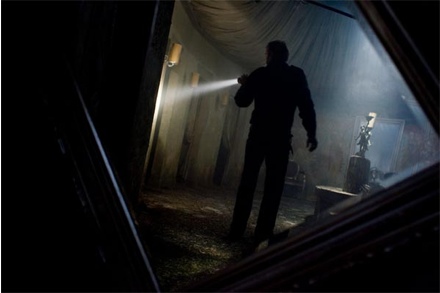 http://www.slashfilm.com/wp/wp-content/images/mir-01666.jpg
Here is one more trailer for the movie



Here is the poster of this movie
here is a link to the sours that has the poster http://movieblaze.wordpress.com/2008/07/03/reflecting-on-mirrors-redband-trailer/
Soruce
Movie Review: Mirrors

by tvnz.co.nz's Darren Bevan

Mirrors

Rating: 7/10

Cast: Kiefer Sutherland, Paula Patton, Amy Smart

Director: Alexandre Aja

Remakes of Korean horrors are all the rage these days. (Think the Ring, Dark Water, The Eye)

So it'll be no surprise to you to learn that the latest horror flick starring Kiefer "Jack Bauer" Sutherland is a remake of a 2003 South Korean horror Geoul Sokeuro.

Sutherland plays Ben Carlson, a cop retired from the force after an incident which led to the shooting of a fellow officer.

Estranged from his wife and son after a mini breakdown, he is now a night time security guard and starts work at a burnt out department store, which is ostensibly gutted - aside from mirrors all around the building.

On his first night there, Carlson suffers hallucinations - he also learns from his boss how the previous security guard died but had been obsessed with the mirrors.

As Carlson continues to tread his night time beat, the visions intensify and things get worse when he receives a package from the previous security guard who has been dead for a while&

And the situation gets even more terrifying as it becomes more obvious that Carlson's family is under threat from a mysterious and horrifying presence.

Mirrors is a pretty solid shocker - the idea there is a creature in the mirror which is your reflection and can motivate you to harming yourself isn't anything new - but is well visualised thanks to some impressive effects.

There are some real jump in your seat moments (director Aja who helmed the remake of The Hills Have Eyes) and some scenes will disturb you for a while to come -the demise of Carlson's sister (played by Amy Smart) will put many off bath tubs for a while.

Kiefer Sutherland is good too- whether it's because I've become used to him as save-the-day-at-whatever-cost Jack Bauer, seeing him play a man on the edge or falling apart because of internal (and external) demons is nothing new - but he brings his usual intensity to the film which could have been unoriginal.

The only time the film falls apart is with its confrontation with the demon at the end which sees it degenerate into Resident Evil territory in the sewers; but the ending of the film redeemed it in my eyes.

The real question is why this wasn't released on Halloween over here - with some smart chills and genuine edge of the seat moments, it would have been infinitely better to watch rather than endure 90 minutes with yet another of the Saw franchise.
Source
FILM REVIEW: Mirrors/Огледала
10:00 Fri 21 Nov 2008 - Pavel Ivanov

Overall rating: 1/5
Director: Alexandre Aja
Genre: Horror/thriller
Running time: 110'

Ironically, remaking Asian horror movies in Hollywood has come to develop a genre in itself, just as it is in danger of outstaying its welcome. True, at its onset it gave us arguably the most potent onscreen scares in recent memory (The Ring immediately comes to mind), but the most recent offerings charging from the Hollywood production line yield alarmingly diminishing returns – Mirrors, the latest American remake of a South Korean horror flick, is a fine case in point. Unlocking an imagined terrifying feature of some mundane object is again the order of the day, as the title bluntly suggests. "What if the mirrors are reflecting something that's beyond our reality?" protagonist Ben says, displaying a firm grasp of the horror-world it's obvious that the movie is trying to establish. Yes, it does, and it provides a few knee-jerk scares to try and make this all worth your while, but as an audience exercise of purging your demons by confronting them, Mirrors is mediocre at best.

Ben Carson (Kiefer Sutherland) is a disgraced ex-NYPD detective and recovering alcoholic taking up a job as a night watchman in a once-famed department store. He attempts to piece his life back together, leave his current residence on the sofa in the apartment of his sister Angela (Amy Smart) and get reunited with his wife Amy (Paula Patton) and his children. The department store he guards famously burned down years ago, but retained one of its trade-mark features – there are still mirrors everywhere. The twist is that once they get Ben's reflection they won't leave him be until he completes a task for them, and to make sure he complies, they start terrorising his family.

The premise sounds promising, yet the execution is wayward, flawed, both confusing and confused. The look of the film is a mess of rapid cuts, disorienting lighting or lack thereof and illogical character motivation leading to, well, stupid actions. The scenes don't gel together and despite Sutherland's competent performance, a viewer can hardly be pressed to care or sympathise with a character whom he cannot understand. One also cannot help but notice how Sutherland employs mannerisms that are all too similar to the ones he polished as Jack Bauer in 24. The freedom to do so may be explained in part by the fact that he is also one of the executive producers of the movie, but from the evidence on display here, this job is not his forte. The production feels rushed and patched up, with Bucharest standing in unconvincingly for New York.

Director Alexandre Aja works with a bigger budget than on The Hills Have Eyes or High Tension, but he seems at a loss when it comes to using it. The blood and gore are not scary, but repulsive and downright comical, and the attempt for an atmospheric and menacing look comes accross as irritatingly murky. The bizarre highpoint of the entire proceedings is the onscreen death of one of the main characters, which probably says it all. If you are looking for a good scare at the movies, try something else, anything else. If you are dying to watch Kiefer Sutherland, find a rerun of 24 on TV.
Source
Review: 'Mirrors' is more of a thriller than a horror flick

Spicezee Bureau

A film that has a death scene in the first few minutes can be the perfect horror flick. Though not very fresh but this one can be called a gripping Hollywood broth. A man trying to escape mirrors, ends up locked in a room where all the lockers open to show his reflection. He says sorry to the largest mirror, which starts developing cracks as the man approaches it. Then something happens and his throat is slashed with the man dead. Now those are some heart-thumping chills!

Related Stories
Review: Subhash Ghai's 'Yuvvraaj' is old wine in new bottle
The story goes like this- Ben Carson (Kiefer Sutherland), a former cop under suspension for shooting another office takes up a night-time job at a store and discovers mirrors have a mind of their own too. He goes on to describe his weird experiences to his sister, who asks him to seek professional help. Then happens a twist, she dies a ghastly death. It is soon found out that the store used to be a hospital for treating mental patients. Carson tries to correlate the mirrors and the death of his sister and wants to know the mystery for once.

Mirrors by Alexandre Aja is not that perfect horror flick you would want to catch. Though it is a little creepy for sure, it sadly doesn't have much new stuff to offer. The fact that Sutherland is shown getting into every damn detail makes the plot monotonous and uninteresting.

The portrayal of Sutherland's son is unacceptable by any means. After all which son would be so indifferent? The only saving grace is Sutherland's performance and nothing else.

Paula Patton (Carson's wife) soothes the eyes literally with her attractive persona. Carson's daughter Daisy (Erica Cluck) acts cute, while Cameron Boyce's portrayal of Carson's son is stereotypical and seems of no importance.

Don't you dare to expect something unusual if you want that then don't go for this one as it may seem predictable. Merely two cheers for this one!


Similar topics
---
Permissions in this forum:
You
cannot
reply to topics in this forum